When I met him back in October or November, I didn't know his name. I was just starting to venture off the ship and hadn't figure out how to communicate in Malagasy enough to say, "What is your name?" But I remember that he was one of the very first patients I met at the Hope Center.
At the Hope Center with Mosolo and friends
That Sunday afternoon, when we first met, a gaggle of young boys was running around the Hope Center with nothing to do. Their energy level was off the charts, so I thought some outdoor games would be just the thing to keep them occupied (and give the rest of the patients and staff a little peace!). Without sharing a language, I couldn't explain the rules to any game, but I did manage to set up an obstacle course using a tree, an old chair, a large rock, and some lines drawn in the dirt. The boys were so excited to show how fast they could complete the course while I timed them.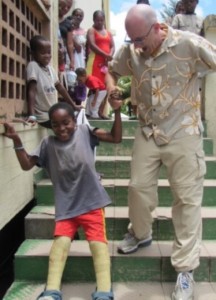 Monsolo (in the red shirt in the photo above) had severely bowed legs. I was impressed he could walk at all, let alone run through an obstacle course. But he did it with as much gusto as other boys. He wasn't as fast, but the fact that he didn't sit out or shy away from an activity which highlighted his disability is what impressed me the most.
After having surgery in November, Mosolo wore casts until February. Last time I was at the HOPE Center, I was delighted to get to snap a few shots of Mosolo showing off his stair climbing ability with fellow crew member Keith.
Now it is April and Mosolo has finally gotten to return home to his village. Surgery on the Africa Mercy may be free, but our patients still pay a large cost: the cost of being away from home and loved ones for many months, of missing work or school, and many days of difficult travel from remote areas of the country.
But what little I know of Mosolo from my visits to the Hope Center, I have a feeling that the cost was worth it and with his newly straightened legs and his indomitable spirit, he will go far in life.